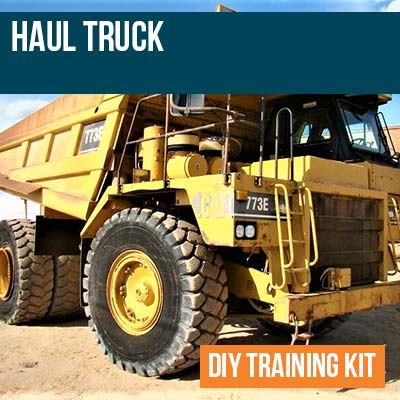 Haul Truck Training Kit
Haul Truck Training Classroom Kit: OSHA-Compliant. Reusable & Customizable.
Haul Truck Training (AKA: Rock Truck Training)
Looking for a cost-effective and convenient way to offer haul truck training (AKA: Rock Truck Training) for your employees or customers? Our haul truck training program (available on CD, USB Drive, or via Instant Download) provides simple instructions with all the tools necessary to train and certify workers for haul truck safe operations. 
Not quite what you need?  We will soon offer an online haul truck training course as well as corporate broadcast licenses so that you can make the training materials available on your network to branches across the country.
---
What's in the Haul Truck Training Kit?
This haul truck safety training course includes:
PowerPoint Presentation -- you have complete customizability; even down to changing out the logo to your own.
Instructor notes -- our informative instructor notes give guidelines and talking points so that you sound like a pro.
Student Manual -- the student manual is a comprehensive tool you can use during training or give to your operators to refer back to.
Written Test / Answer Key -- print as many copies as you need to certify an unlimited number of students.
Practical Evaluation Forms -- our haul truck practical evaluation guide walks you through each requirement.
Certificate of completion template -- we provide customizable haul truck certificate templates that you can store for your records.
Wallet card template -- some work sites require operators to carry a card; print as many haul truck wallet cards as you need.
Refresher training forms -- when it comes time to re-certify workers you will be ready to hold refresher certification courses.
Standards & regulations -- complete citations standards.
Video News Clips -- real-life news clips show the reality of haul truck accidents.
Much More!
---
Why you need haul truck training:
While a license is not required in the U.S., certification is. Our training and the included exam will get you certified today.
Watch the video below to see what is included in each safety training kit: