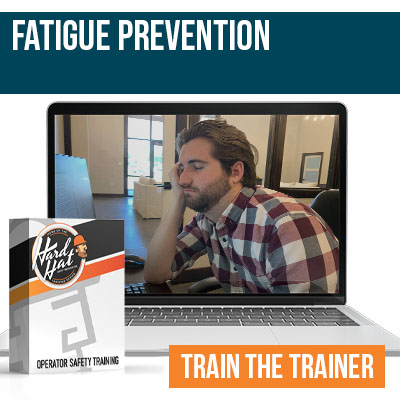 Fatigue Prevention Train the Trainer Certification
Fatigue Prevention Train the Trainer Certification + Training Kit, designed by trainers with 15+ years of onsite training experience. The estimated time for this training is 3 hrs.


Online Fatigue Prevention Train the Trainer Certification Course Details:
Becoming a trainer is ultimately an employer designation. For those who are becoming trainers on their own, you simply have to be able to justify why you are competent enough to be a trainer. For OSHA's part, they typically want you to have experience and training. While we travel the country certifying trainers, the online training course is an easy and cost-effective way to help employers make the designation by offering the required training.
We send our trainers all over the country training both operators and trainers. And although OSHA does not require a Fatigue Prevention train the trainer certification (they are more interested in what topics are being trained on), many companies and individuals feel more comfortable going through the trainer program from a well-established, industry-recognized training company like us. But it doesn't always make sense financially for companies.  That is why we've created the option to get certified online. If you are comfortable training and comfortable with the equipment, you can simply purchase the online trainer course, get your certificate and training kit, and start training. It is a very cost-effective way to go.
Why buy our Fatigue Prevention Train the Trainer Certification Course?
Safety training is an investment. That is why hundreds of companies and individuals all over the world trust the Hard Hat Training Series for their online training needs. Our unique online training program has been fine tuned to provide you with the best training experience possible.
---
What's in the Fatigue Prevention Train the Trainer Course?
The online course consists of several modules, but two main sections:
Fatigue Prevention Training

Introduction
General
Prevention
Treatment
FRMP
Conclusion
In a nutshell, the trainer will take the online training course to become more familiar with the equipment and learn how to teach the required topics. Once completed, they will gain access their certificate of completion, as well as the Fatigue Prevention training kit, which is a download file that contains all training material necessary to train your workers, including an in-depth powerpoint presentation. See more details on the Fatigue Prevention training kit
How does a Train the Trainer course work?
1. Take the online trainer course at your own pace (3 hours total is typical). Quiz questions along the way prepare you for the final exam.
2. Instant access to your safety certification, wallet card, and training kit materials (to use when training others) is granted once the online trainer course is completed and the subsequent online exam passed.
3. Congratulations! You've earned your lifetime trainer certification and may train your workers whenever you need. Additional Information