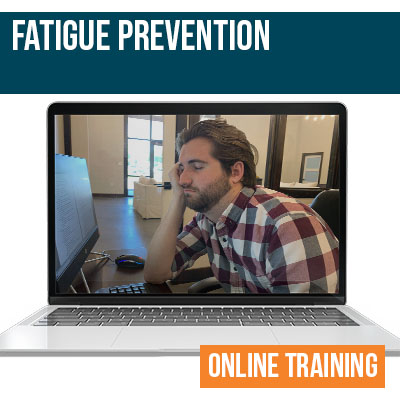 Fatigue Prevention Online Training
Fatigue Prevention Operator Training, designed by trainers with 15+ years of onsite training experience. The estimated time for this training is 1-1.5 hours.
OSHA Compliant
Instant Access
Print Certificate and Card
Company Accounts and Bulk Discounts
Fatigue Prevention Training Online - Learn How to Operate a Fatigue Prevention Safely
Learn how to operate a fatigue prevention safely. Our online fatigue prevention training provides a quick, simple and effective way to get yourself or your workers OSHA compliant with fatigue prevention certification in hand. We've been providing fatigue prevention training solutions for individuals, safety managers, and business owners for over 15 years.
Safety training is an investment. That is why hundreds of companies and individuals all over the world trust the Hard Hat Training Series for their online training needs. Our unique online training program has been fine tuned to provide you with the best training experience possible.
---
Why buy our Fatigue Prevention Training?
Complete Fatigue Prevention Training: First and foremost our goal is to keep you safe and save you money. Don't risk getting expensive OSHA fines because you settled for a sub-par training program that didn't cover safety topics in depth. Train using a program that helps you retain what is learned so that it is put into practice on job sites.
Cost Effective: Hiring a trainer to come on site for fatigue prevention training classes can be expensive. In contrast, our online curriculum lowers costs while still providing a professional training experience.
Records Tracking System: We offer an easy to use learning management system so that if you have multiple students who are receiving the training you can have access to all records, fatigue prevention certificates, observation guides and more! (Contact us if you would like us to quickly create a company account for you)
Train Your Way: You can use this online Hiring a trainer to come on site for fatigue prevention training classes can be expensive for new hire training, refresher training or train remotely. Access it from anywhere and work on your schedule.
Interactive Learning: Special reminders and quiz questions throughout the course prep students for the final exam so that it is passed the first time.
Corporate License: Do you want to host this course on your own server? Contact us about obtaining broadcasting rights for this and any of our other online courses.